Secure Ear Hook Wireless Sports Earpiece QCY QY12 Bluetooth koptelefoon of koptelefoon met microfoon zijn veel makkelijker in te schakelen, aan te zetten en uit te schakelen dan andere modellen op de markt. U hoeft geen knop op te drukken om de headset of de koptelefoon van de koptelefoon aan te zetten en uit te schakelen. De bijgeleverde Bluetooth-oordopjes kunnen ze comfortabel op uw nek dragen, terwijl u ze niet gebruikt en ze kan scheiden wanneer u ze wilt gebruiken. Onze draadloze oordopjes zijn het meest comfortabel om te gebruiken en op de markt te brengen. Veilige en comfortabele bevestiging: Gefrustreerd met koptelefoons die voortdurend vallen tijdens het sporten? Onze beveiligde passieve koptelefoon met microfoon of bluetooth koptelefoon komt uit met deze frustratie. Het ergonomische ontwerp van de haakjes en de perfecte maat van de stekkers maken het mogelijk om sport met hoge intensiteit te oefenen met een veilige grip en compleet comfort. De koptelefoon met microfoon of draadloze koptelefoon zorgt ervoor dat u zich voelt vrij en veilig, zelfs bij langdurig gebruik. MAXIMUM KWALITEIT: Bluetooth V4.1: oortelefoons met microfoon of oordopjes met microfoon kunnen tegelijkertijd met twee apparaten worden aangesloten, meer bereik en betere geluidskwaliteit. CVC 6.0 Geluidsonderdrukking: In gesprekken is de stem helderder en sterker, zelfs in luidruchtige omgevingen met deze koptelefoon met mic. MVO-chip: de oortelefoon met microfoon of headset bluetooth is sneller in respons en efficiënt. De oortelefoon met microfoon heeft een batterijduur van maximaal 8 uur. Ipx4 koptelefoon bluetooth: bestand tegen zweetwater. VERENIGBAARHEID: Onze oordopjes met microfoon of koptelefoon zijn compatibel met de iPhone 7 7 Plus SE 6 6 plus 5S 5 4S iPad Air iPad Mini iPad 2 iPad 4 iPod 5 iPod Nano 7, Samsung Galaxy S7 rand S7 S6 S5 S4 S3 HTC LG BQ SONY Motorola, MP3-MP4. De Bluetooth-oortelefoon of Bluetooth draadloze koptelefoon kan worden aangesloten op elk apparaat dat Bluetooth heeft.
De reden waarom je onze draadloze hoofdtelefoon moet kopen:
- Smart Magnetische Switch Control
- CVC6.0 Geluiddemping en ingebouwde microfoon
- CSR8645 Bluetooth4.1 Chipset
- Comfortabel Fit
- Zweetvrije functie
- Compatibel met allerlei mobiele telefoons, tablets, laptops en desktops

Producteigenschappen
Spreektijd: 5,5 uur
Standby-tijd: 7 dagen
Bluetooth Versie: 4.1
Kleur: zwart / wit
Transmissie radius: 10m
Stereokanaal: 2

100% tevredenheidsgarantie
Als u nog vragen heeft over ons product, neem dan contact op met onze klantenservice
Als u niet tevreden bent met ons product, garanderen wij 100% terugbetaling garantie.
Verpakt inbegrepen:
- 1 x QCY QY12 Bluetooth-headset
- 1 x Micro USB Laadkabel
- 3 x oor tips
- 3 x oorhaken
- 1 x gebruikershandleiding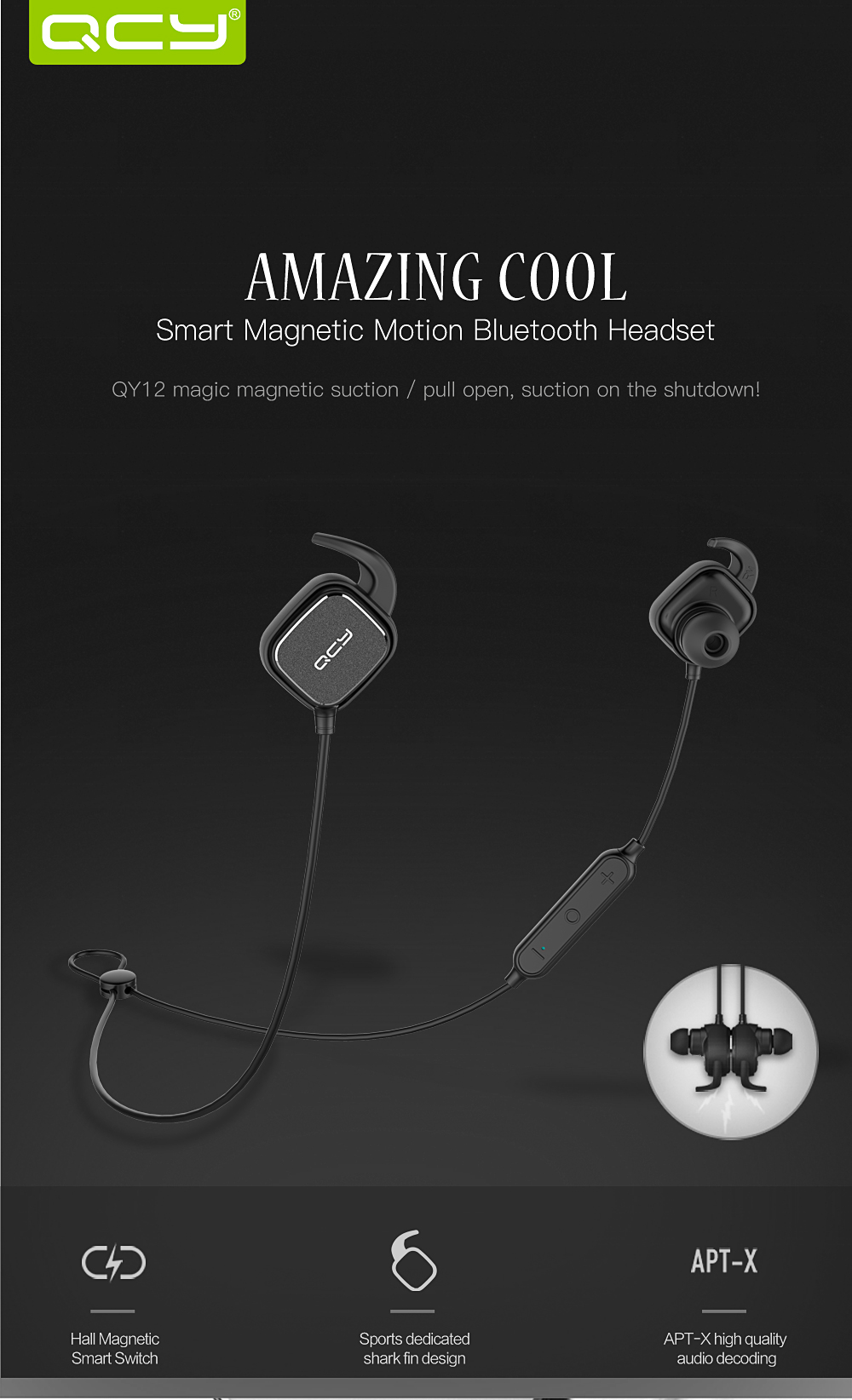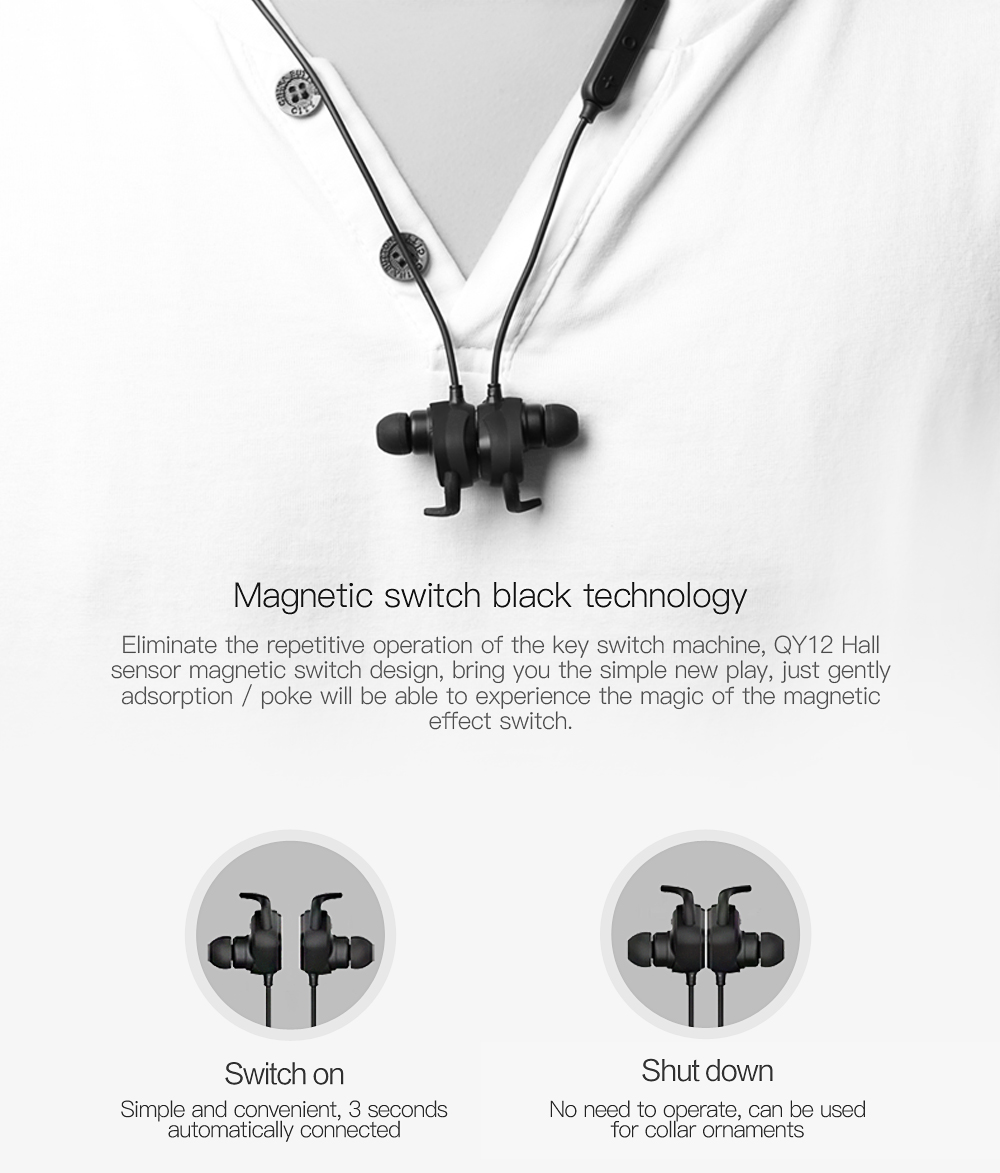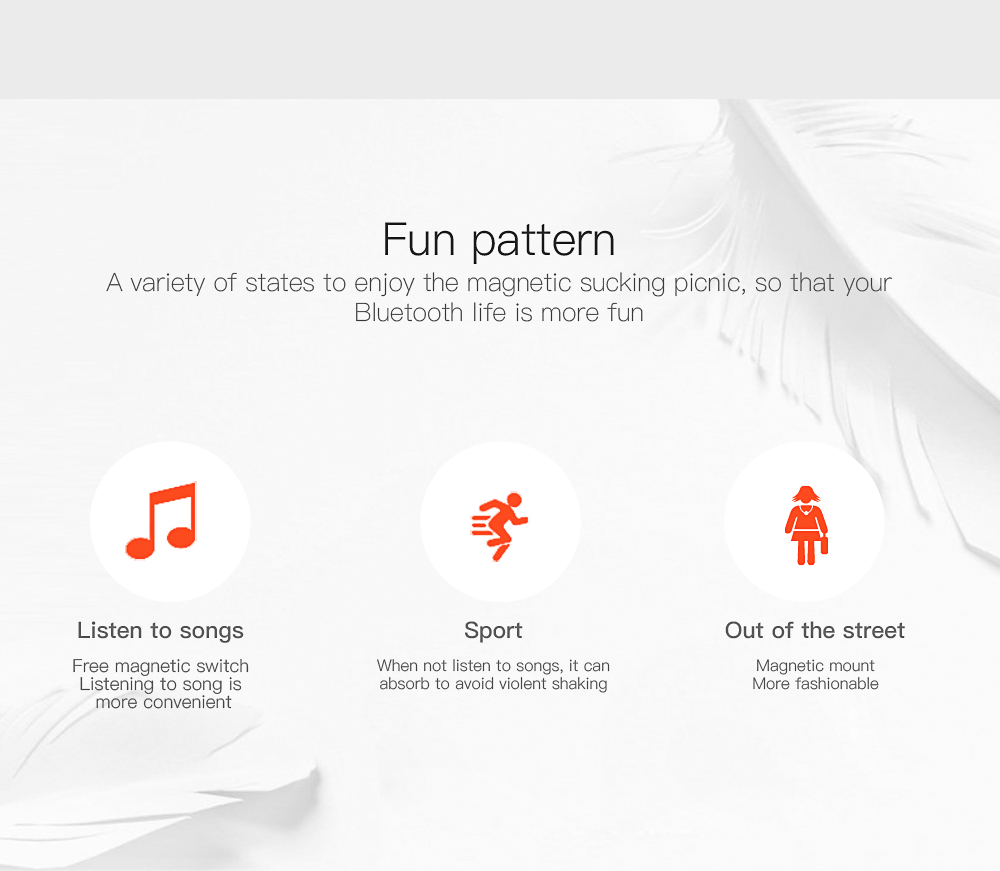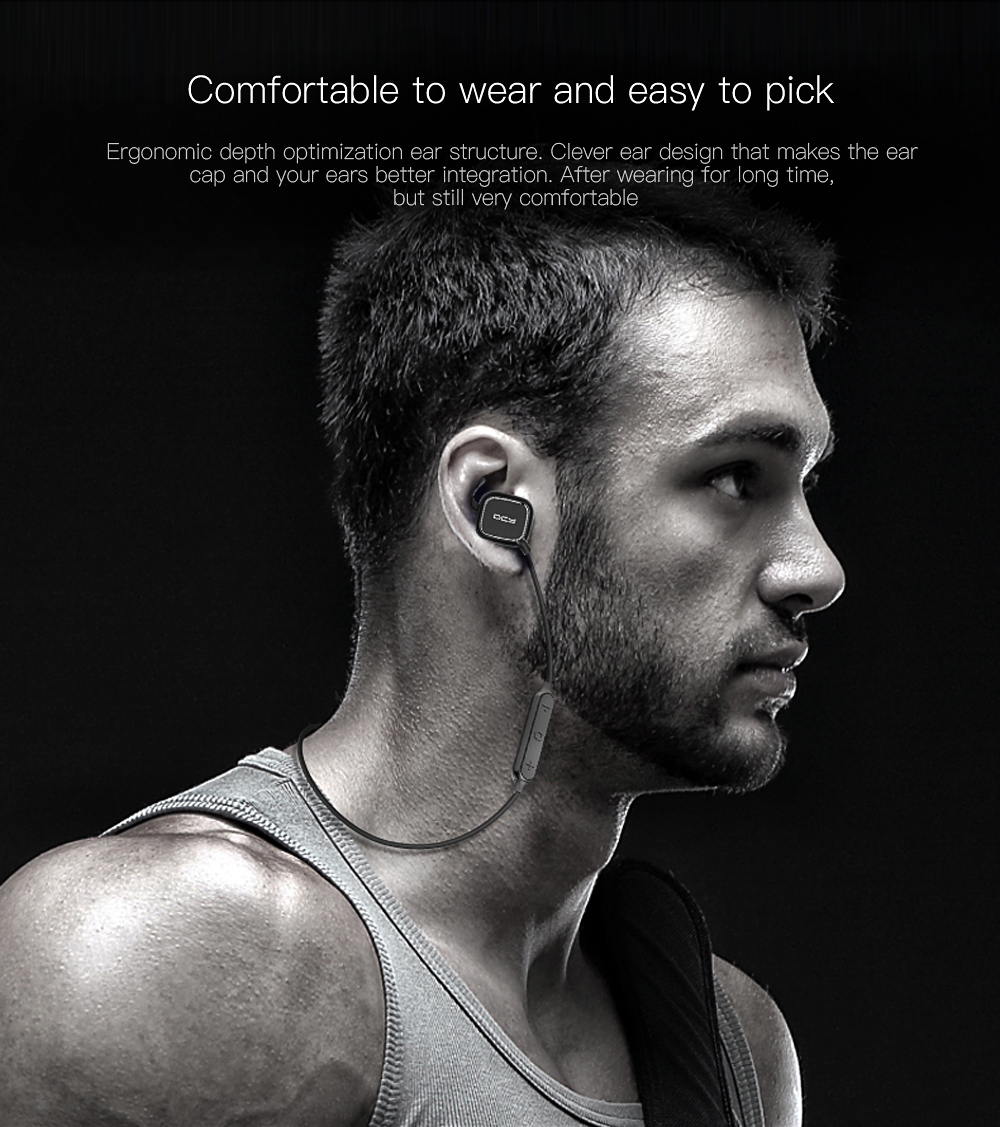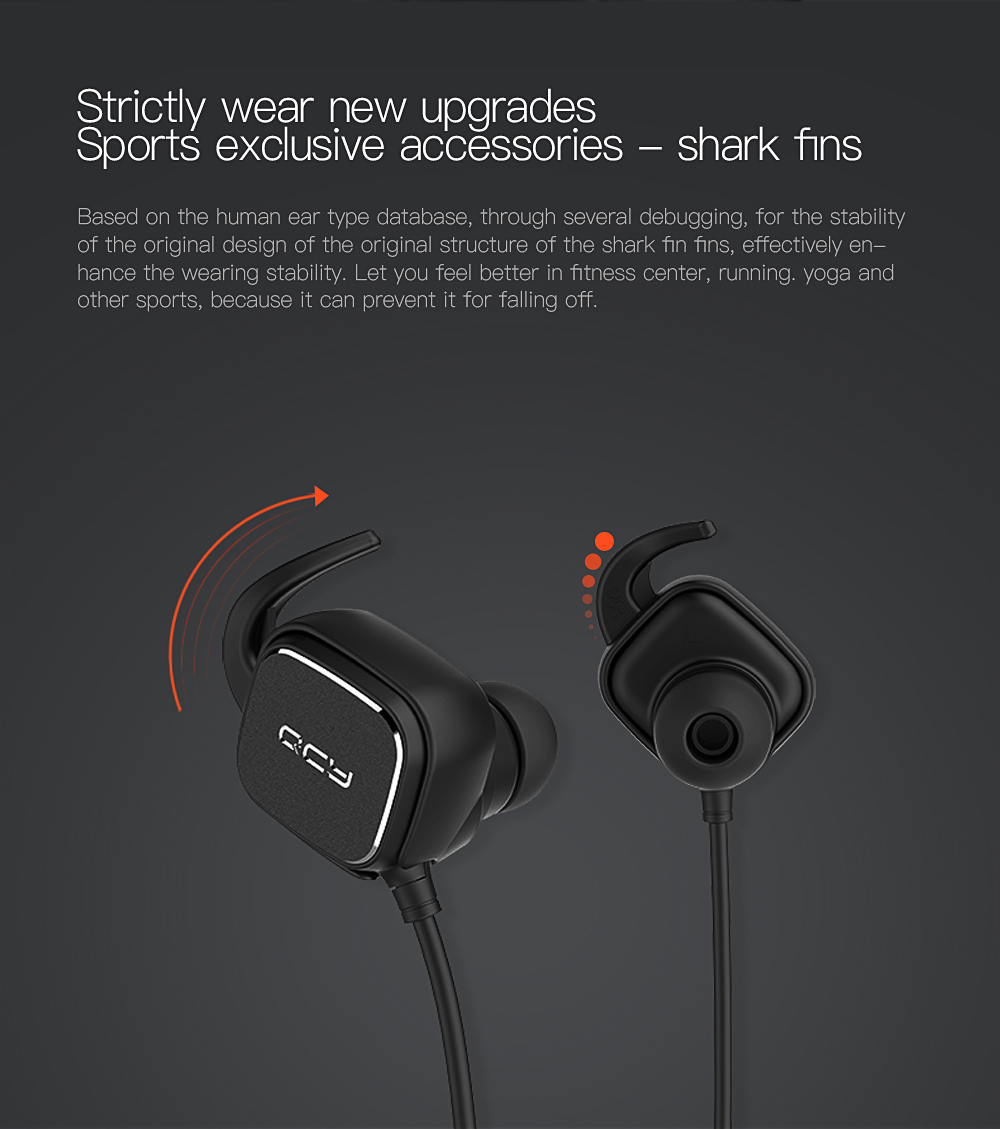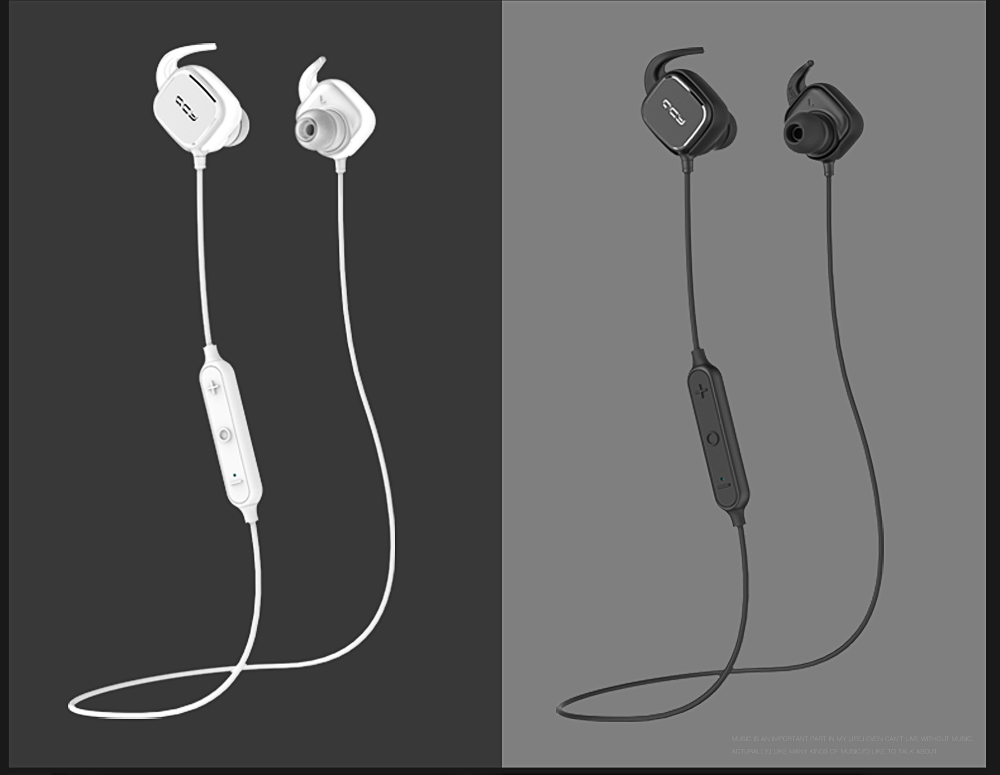 Product Categorie : Bluetooth hoofdtelefoon > Stereo Bluetooth Hoofdtelefoon